The internet isn't what it was ten years ago. We have several technologies to thank for that, one of them being AI. Today, Artificial Intelligence has cleared a path to a brighter way to website development with the highest chances of providing a memorable user experience. 
The custom website development company, Artoon Solutions, can develop a customized website that includes every AI feature you need!  
Examples of Websites Already Using AI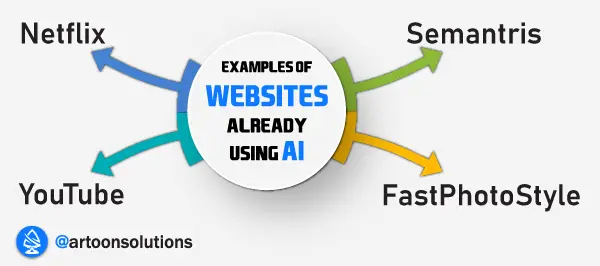 What is AI? How Does It Work? 
Artificial intelligence is a niche in the technology field that focuses on creating computer systems or software capable of carrying out tasks that would otherwise require human intelligence. These tasks could include the following: 
Visual Perception
The ability to identify visual objects and distinguish between two or more several objects is useful for a website development company designing websites. This helps when it comes time to distinguish between several items on a page.  
Speech Recognition
Some websites can understand speech and act upon verbal commands. Including speech recognition in your website can open up your business to more people. 
Decision-Making
Enabling your website to make certain decisions can aid your staff working behind the scenes. Removing a bit of the workload, AI can be applied to your website, helping make small decisions that otherwise could only be made by human beings.  
Read More: 12 Reasons Why Your Business Needs a Website Today!
Translation Between Languages 
Ever clicked on a search result in Google but arrived at a website that's not in English? You would have also noticed that the page is always immediately translated by Google to a language of choice. 
You can offer a similar option on your website, allowing the content to be translated into the language the website user prefers. 

Should AI be Used in Website Development? 
The addition of AI in website development is a wise decision. 
As is the case, developers and tech experts from every web development company constantly look for new ways to develop technology that will aid the public. Constant progression is the reason for the existence of several technologies, such as AI and ML. 
The major concept driving the advancement of AI technology is to eliminate tedious tasks, improve productivity/effectiveness, save time, and reduce costs simultaneously. 
Including AI could greatly benefit website owners, customers, and users. The collection of data and its structuring can be rapidly completed by using such technological advancements.
Read More: Best Frontend Frameworks for Website Development in 2023
Web Design – ADI (Artificial Design Intelligence)
Designing a website can be difficult as it relies upon and is usually restricted to one's imagination. However, there is a way to avoid this restriction. AI can be the culmination of several people, so its design results can be better than that of an individual!  
This technology is especially interesting to people who cannot code their websites and find little joy in hiring website developers, especially freelancers. 
Combining the efforts of a custom website development company and a freelance website designer, ADI brings new light to website designing that can improve statistics for the owner. 
For example, a website design that better appeals to users can increase traffic. If traffic increases, the chances of selling products or services also increase. Besides, even if it doesn't, it aids you in spreading awareness about your website and brand.
Communication Through Chatbots 
The concept of chatbots is not new! But we may think so because the concept has only become very popular of late, the last two or so years ago. Many people are increasingly leaning towards choosing chatbots over any other method of communicating with customers over the internet through their website.  
A chatbot is a tool that facilitates communication through your website. It is a fast mode that yields immediate results without expending too much time and resources. So, how exactly does a chatbot work?  
It usually comes in a small form in the corner of the website. A question appears, and the user has to select an answer from the options provided. Depending on the first response, the chatbot will continue to display questions, and users have to respond using the prescribed answers. 
Thus, AI chatbots reduce the need for human resources, dedicating their time to solving queries and answering relatively simple questions.
Read More: How Website Development is Important For a Business to Succeed
Aiding SEO Activities 
If you have a website or are thinking about creating one, chances are high that you have already heard about SEO or search engine optimization. It is a list process you will have to undertake if you want to have a chance of ranking in search engines. 
Without carrying out SEO, your website could be lost among the plethora of websites you compete against. Artificial intelligence comes in great use here to measure SEO statistics. While there are tools to help measure SEO however, they usually come with limitations. 
A web development company will utilize By using AI to overcome certain limitations or errors arising from human error.
Better Accessibility
Older websites were restricted to just being scrollable pages restricted to just people able to see and physically scroll through them. However, with AI, it becomes possible to open up your website to people with visual and physical impairments. 
You can incorporate speech recognition, enabling visually impaired individuals to access your website using spoken commands. This would easily help you to reach a wider audience and one that is otherwise not catered towards.  
When hiring website development services in India, you will probably be advised to allow maximum accessibility to your website to experience the best results.
Gathering User Insights  
As mentioned before, chatbots are great communication tools. But they can be used for so much more than communicating. For example, chatbots could act as a vessel by which website owners could conduct a survey. 
The chatbot could gather valuable insights into what your customers or website users think or feel about your website. 
You may want to improve your website and are wondering how best to accomplish that. A survey can collect insights from the very people the website is intended for. Thus, helping you bridge the divide between current websites and what customers want.
Read More: How to Choose a Website Development Company to Hire a Web Developer
Improving User Experience by Collecting Data 
Using AI and associated tools, you are capable of improving the user experience. Because you have data accessible to you, and you can alter your website in such a way that it aligns with what users expect. 
Therefore having greater access to data means that you can develop a website that is customized to your target audience. Browsing through the collected data will show features of a website that are mandatory and nice to have.
Content Analysis 
Content analysis was naturally a manual process, but not anymore! An application of AI can be to assess content and measure its effectiveness in attracting or resonating with users. 
AI can help measure specific statistics, such as keyword frequency and distribution, as well as the effects of specific content types. This enables you to create and repurpose content to ensure your website only holds effective content. 
Instead of the tiresome task of reading through pages and pages of content, an AI tool can easily be capable of automating the proofreading process. 
Can AI Help Your E-commerce Website Sell More?  
Technically yes, it can help in a few ways! 
When users visit an eCommerce website, they are usually searching for an item. But, gathering information can help to suggest other brands offering the same item. 
Alternatively, suggesting accompanying items could catch the eye of the customer, and they could purchase a few items instead of just one. 
Furthermore, AI's application in assisting SEO practices can aid a website in appearing higher up in search results. So, if you are selling a product, someone urgently searching for it can find yours, and this could fast-track a lot of sales because of your position in search engine results. 

Conclusion 
As technology progresses, website owners should look for opportunities to harness new offerings and develop a website that surpasses user expectations. 
AI is a new technology whose full potential has yet to be unlocked, but with the help of new developments, one can easily get ahead of their competitors by using it. If it can't help you develop your website, it can help you improve it. 
If you are looking for a website development company, you need to pick one that knows exactly how to incorporate AI in its website development services. In that case, you are better off choosing Artoon Solutions.
Read More: The Role of IoT in Custom Web Development Services